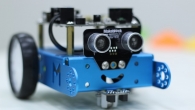 14-08 14:09
The TinkerClub plans to end this year's CampZone with a bang! The first people to run to the Tinker Area in the Mainege, and score a goal with one of the MBot soccer robots using their phone, will receive an awesome prize:

In order of first-come, first-serve, the prizes are:
1st - Raspberry Pi 3
2nd - Raspberry Pi 2
3rd - Hummingboard
4th through 8th - Raspberry Pi 1 B

Hurry to the Tinker Area and claim your loot!

14-08 12:18
Tijdens de opening heb ik verteld dat er tot mijn verrassing een nieuwe wedstrijd is ontstaan: Baby-Selfies. Mensen zien ons met de baby lopen en doen het spontaan na. Na een aantal zeer grappige pogingen is de winnaar bekend xD. Ze hebben een Sandberg headsetje gewonnen voor deze klassieke boerhouding :).
Bypass en Bushman hebben duidelijk al vaker met dit bijltje gehakt:
De andere inzendingen:
---
---
---
---

13-08 16:55
Helaas moeten wij melden dat de Schuimparty van vanavond door moet gaan zonder schuim. In verband met dalende temperaturen vanavond en vannacht vinden wij het onverantwoord om het schuim door te laten gaan.Het feestje zelf gaat natuurlijk wel nog gewoon door, maar dan wordt het dus een Schuimloze Schuimparty, maar een party nonetheless. De daadwerkelijk Schuimparty schuiven wij gewoon door naar volgend jaar en proberen het dan nog een keer! Het vorige feestje was in ieder geval een groot succes waar wij een klein overview filmpje van hebben gemaakt, wat vast weer genoeg hype opwekt om ook van vanavond een succes te maken!